Awards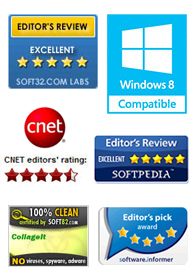 Testimonials
This is a very nice and useful photo collage generator.
- Soft32
Really a great collage software ! Very, very fast and simple.
- Benjamin Glettenberg
Find Us
Newsletter
Contact Us
About Us
Pearl Mountain Software, Inc was founded in 2006. Pearl Mountain Soft is a software company specializing in development of powerful software. Customer satisfaction is our first priority and we aim to produce only top quality software .Our goal is to create high quality, powerful software and to provide superior service and support to our customers.
Technical Support Team
If you didn't get the answers from the Product FAQs, please contact PearlMountain technical support team for further assistance:
- support@pearlmountainsoft.com - If you have problems and questions about using our software, let us help you.
- info@pearlmountainsoft.com- Send us your comments! We'd love to hear from you!
- info@pearlmountainsoft.com - Use this email address for all marketing inquires.