Free Download
Awards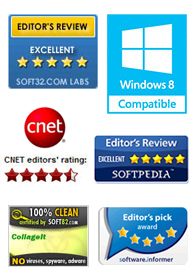 Testimonials
This is a very nice and useful photo collage generator.
- Soft32
Really a great collage software ! Very, very fast and simple.
- Benjamin Glettenberg
Find Us
How to Make Pet Scrapbook Using Picture Collage Maker
In recent years, people like to keep a pet, they regard it as a part of their life and want to preserve the precious pet memories, the most creative and beautiful ways to keep memories in mind is by creating a scrapbook which keeps pet memories filled with rich pet pictures, whether the pet mat be a cat, a dog, a snake or whatever it may be. With a collage & scrapbook program and a little creativity, you could make it. The following provide you with the steps on how to create a pet scrapbook full of cherished memories that will last a lifetime.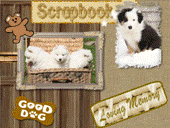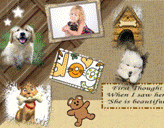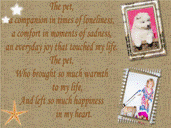 Download Picture Collage Maker Pro on the desktop. Open the program and click on Continue Trail, a blank page will come to your sight, you can resize the blank canvas to fit your needs.
Step 1 – Load the Template
Click Template pane on the left window of your collage, start it with choosing a template, open the Template pane in the left window of collage, decide what you would like your scrapbook represent, if nothing satisfied you, start it with a blank page and go to next.
Step 2 – Select Background
Open Background pane, you can see the list of background patterns in the left part of Picture Collage Maker window. In the Background thumbnails pane, double click a background to apply it to the current collage. In addition, open Shape pane to choose one and fill the shape with color or image, then you could apply it to the background.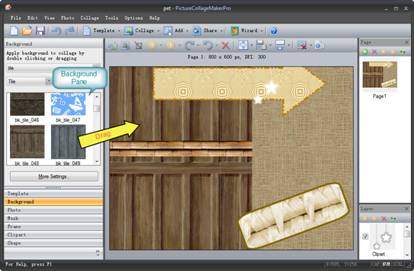 Step 3 – Add Photos
Now that we have the template set, it's time to add photos, click the photo button on the left of the collage to open photo pane. Next, select your cherished pet photos on your computer and add them to the collage area, you can adjust the photos by resizing, cropping and rotating them.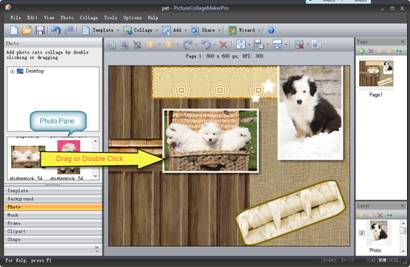 Step 4 – Add Embellishment
Add any embellishment you like. Open the Mask pane and view the list of masks, select one and apply it to collage. In order to make the photo looks beautiful, you need to surround it with a good frame, open the Frame pane on the left part of collage and choose one to decorate the photo. The program allows you to add clipart to enrich the collage, position the clipart to make the collage fun.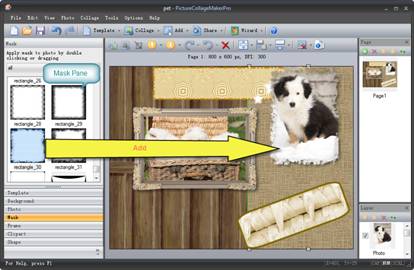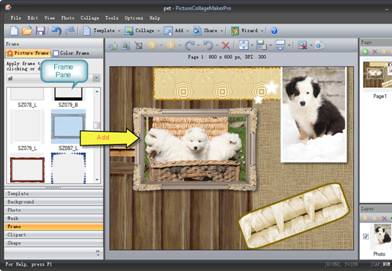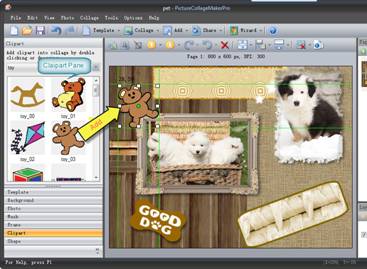 Step 5 – Add Text
Click Collage on the top menu and then Add Text on the dropdown menu. What's more, you could click Add button and click Add Text in the window menu. Here you can manipulate font, font size and color of your text.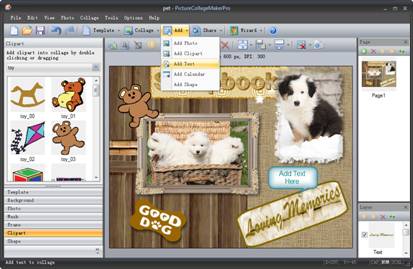 Step 6 – Add New Pag
On the right part of collage, you can see a Page pane, click Add Page, a new blank page will be created. You can just go ahead to create a new collage as you wish.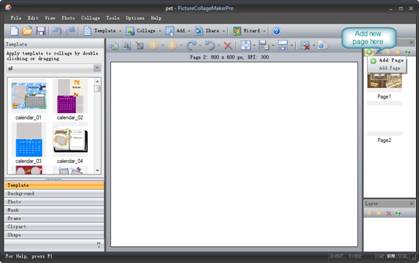 Step7 - Save and Print
Layer the images by moving a selected layer to the back or to the front. You can delete layers you don't like and replace them with new images. Move the pointer to the top menu and click on File, then click Save As in the dropdown menu, or click Print to print this scrapbook.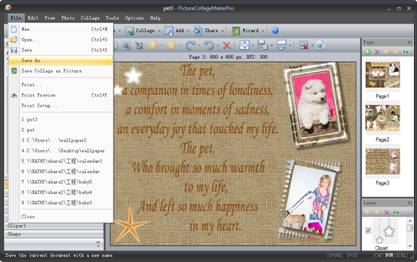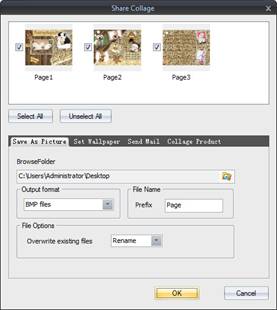 There's no better way than scrapbooking to keep your pet memories alive. Pets enrich our lives and it's easy to capture the memories and recall them.

Picture Collage Maker is a powerful and easy-to-use photo collage maker for Mac OS X & Windows , which allows you to create photo collages, scrapbooks, greeting cards, posters and calendars to share with family and friends.