Free Download
Awards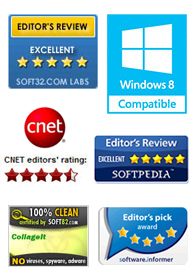 Testimonials
This is a very nice and useful photo collage generator.
- Soft32
Really a great collage software ! Very, very fast and simple.
- Benjamin Glettenberg
Find Us
How to Make New Born Baby's Invitation Card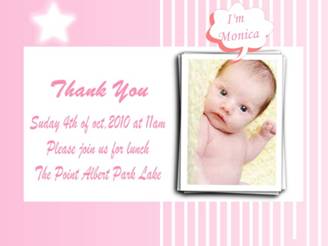 The arrival of a new baby is special and exciting so that you want to tell the world about the birth of your new child and will tell everyone you know this fantastic news, hoping they can celebrate this joyous occasion with you. To begin with, the invitation card is the first choice, instead of ordering those so expensive baby birth announcements, why not create it by yourself. Making your new baby announcement cards both memorable and special with one of the stunning birth photos and send it to all your family and friends.
Using one kind of programs, you can make a unique and perfect special baby's birth invitation card combined with personalized text by yourself. The following steps will show you how to make new born baby's invitation card clearly by using Picture Collage Maker Pro in a few minutes. Download Picture Collage Maker Pro to install and launch this program.
Step 1: Choose Template
Click Template pane on the left of collage, the below template window will pop up. There are templates for different occasions, such as Christmas, birthday, family, baby and kids, wedding and love, etc. If you particularly like one, you can drag or double click it to the blank area.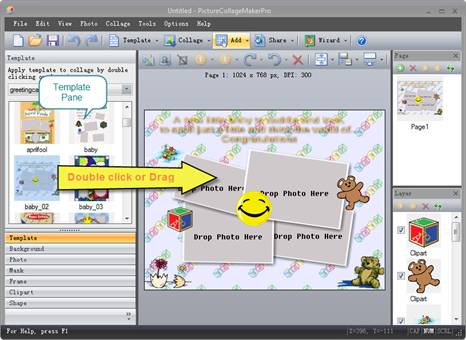 Step 2: Set Background
Now that you have chosen the template, you will need to click Background pane to choose preset one and drag it to the edit area. In addition, you could fill the background with color, click Shape pane on the left collage and choose one shape on the edit area, double click the shape and filled with your favorite color.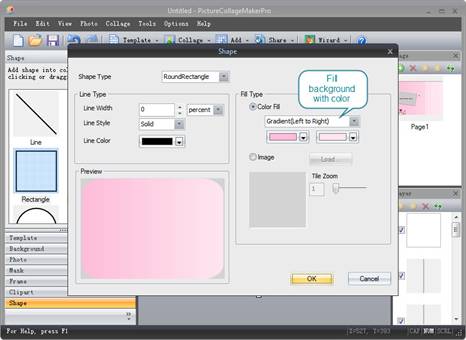 Step 3: Add Photos
Click the Photo pane to get photos from your local disk. Simply drag and drop photos from the left to the templates. Choose a photo of your new born baby.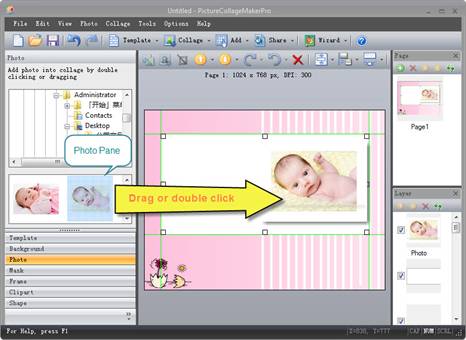 Step 4: Add Decorations
You can personalize your card to make it more unique. Extend your creativity to the most to add frame, mask, clipart, etc. of the templates. No limitation, just do as you like!Besides, you can also alter the settings by adjust the layers, rotate and resize of all the elements to make your invitation more attractive.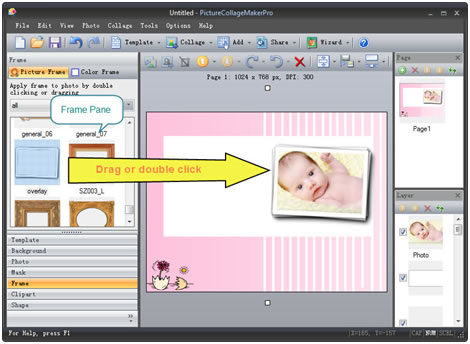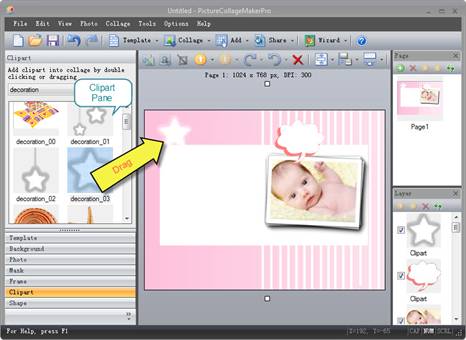 Step 5: Add Text
Click Collage menu and then click Add Text button, then the text edit window popup, the program allows you to manipulate font size, color, and the background of your text. Write in details such as the baby's birth time, place and name.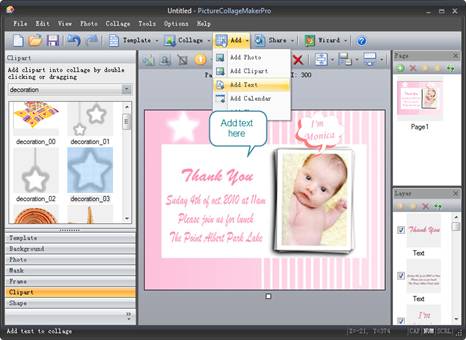 Step 6: Save and Print
With the baby's birth invitation card finished, you can print it directly or save as pictures or email to your friends, etc. You can set the card layout before printing and then send this special invitation card to your friends and families to enjoy the happy moments together.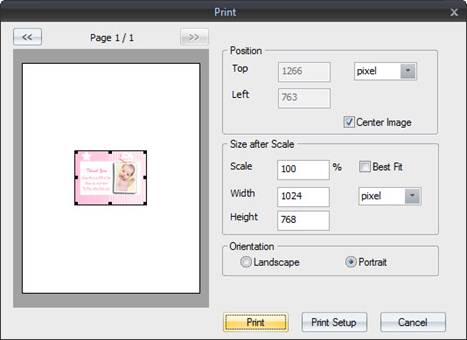 What a creative memory! You and your child will treasure it for life.