Free Download
Awards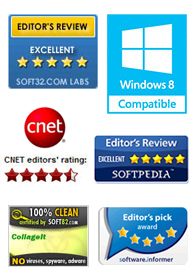 Testimonials
This is a very nice and useful photo collage generator.
- Soft32
Really a great collage software ! Very, very fast and simple.
- Benjamin Glettenberg
Find Us
How to Make a New Year Card
New Year is here! It's time for laughter and cheers! Celebrate the New Year with your friends and reach out to them with your wishes for 2011 with our sincere New Year e-cards. New Year greeting cards give your best wishes to a happy and prosperous new year. Picture Collage Maker Pro is your right choice to make a New Year card. It is an easy running program which always surprises users with various templates and decorations. Besides, these lovely New Year greeting cards can fill your loved ones with excitement and gratitude receiving your exquisite gift.
New Year Family Cards
As New Year is around the corner, it is the perfect time for family get - together. Stay with your family members and bring a magical smile to everyone's face with these New Year Family Cards. Make the cards according to your near one's habit and flavor in festive mood. These cards always act as memories and warmness of family as everyone step on the ladder of New Year.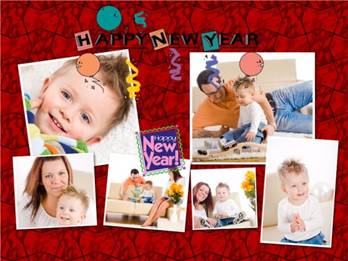 New Year's Invitation Cards
New Year day is about hugging the start of next year and leave the trifles of present year behind. Celebrate a new beginning with your near and dear ones and send New Year wishes to them. Put on your party hats and get ready for the party preparation. Invite your near and dear ones with these New Year's invitations. Send these beautiful cards to let your friends know they are indispensable to the family get-together. So make an invitation and enjoy your New Year's bash with your dear guys.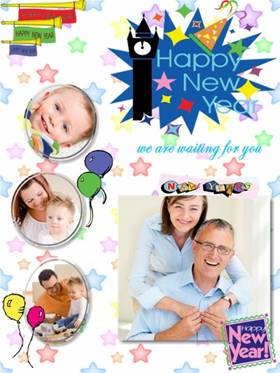 New Year's Blessings Cards
People celebrate New Year across the globe with great fun and enjoyment. They send New Year wishes, exchange gifts and visit each other. This is the time for you to light up the smile on their faces by sending them your New Year's blessings. Make this day special and impressive by sending them New Year's Blessing cards.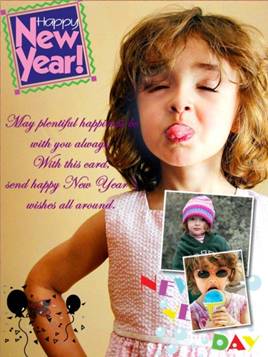 New Year Party Cards
New Year Day is celebrated in almost every corner, people of different countries, different religions and different tastes get together to celebrate New Year with great passion. The festival is interesting and exciting with a rocking party. Have loads of fun and send these New Year Party Cards to your pals and relatives. Picture Collage Maker Pro provides with New Year templates for you to design a New Year party card by yourself. Add party photos and festive decorations of New Year Party can be so impressive.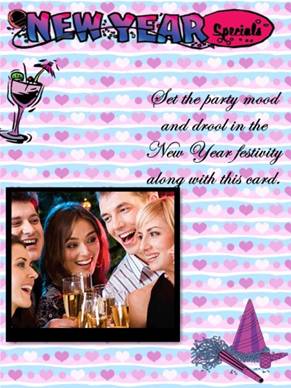 New Year Miss You Cards
New Year is the time for family reunion, but being miles away from your loved ones on that day is so torturing. The festive atmosphere may drag you into to torturing mood deeper. Send a card made in person and tell him that you are missing him in another place. Make a miss you card by choosing your favorite style and give your best wishes to him.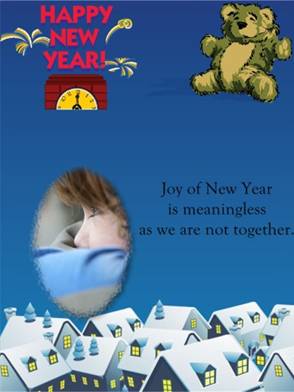 New Year Thank You Cards
New Year is the right time to thank your close ones for their encouragement and friendship. Picture Collage Maker Pro has come up with a variety of Thank You Cards styles. These Thank You Greeting Cards give your sincere wishes to your near ones and express your gratification in your own designed festive background and decorations. These Thank You cards help you say whatever in your heart without shy and strengthen your love with your close ones.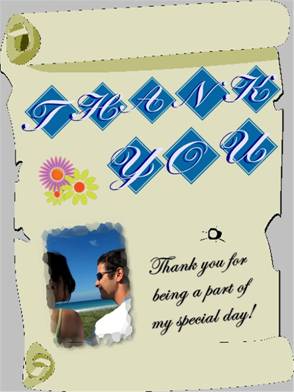 Picture Collage Maker is a powerful and easy-to-use photo collage maker for Mac OS X & Windows , which allows you to create photo collages, scrapbooks, greeting cards, posters and calendars to share with family and friends.