Free Download
Awards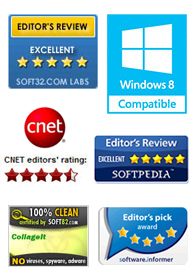 Testimonials
This is a very nice and useful photo collage generator.
- Soft32
Really a great collage software ! Very, very fast and simple.
- Benjamin Glettenberg
Find Us
How to Make an Easter Card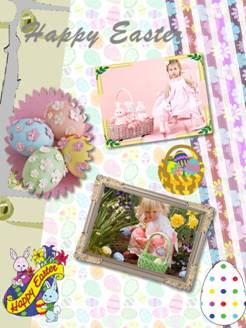 Easter is the sacred celebration of Christ's resurrection from the dead. It is the oldest and holiest Christian festival, the climax and center of the liturgical year, and the holy day to which all other holy days point. Easter fills us with hope, joy and warmth. As the Easter day is around the corner, have you got any idea on how to celebrate this holiday. It is a time to get together with friends, family and loved ones to celebrate this joyful time. It's time for candy, jelly bean, chocolate eggs and egg hunting fun. It's also the time to extend your thankfulness to friends, family and loved ones for their warm wishes and send them your heartfelt Easter cards.
Creating your own Easter greetings is simple and convenient. There is a program that everyone can get involved in, and kids will love making their own cards for friends and family members. You can create your Easter greeting cards quickly and easily using the Picture Collage Maker Pro. This is great way to make Easter cards that are uniquely yours. First, download Picture Collage Maker Pro to your desktop and launch this grogram. Then you can start with your project.
Step 1 – Choose a Template
On the left window of your collage is a Template tab. Click it and a number of templates will appear. Select your favorite one based on the theme of Ester by double-clicking or dragging it to blank area to apply.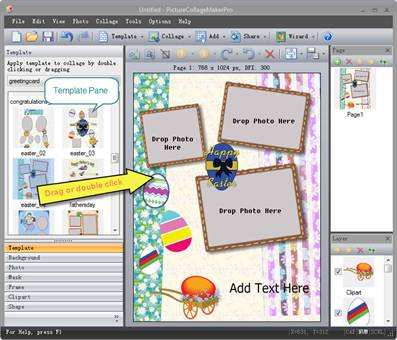 Step 2– Choose a Background
On the Background pane, it provides various backgrounds. If you don't like the background that comes with the template of Easter, simply open the Background pane by double clicking and choose the one you like.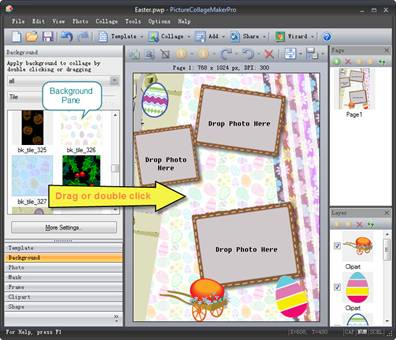 Step 3– Add Photos
It's time to add the photos, click the Photo button on the left of your collage and open the Photo pane. Next, select you cherished targeted photos from your computer and add them to the edit area, the photos can be various from your friends to your loved ones. Here you can resize, rotate, and crop photos to fit your taste.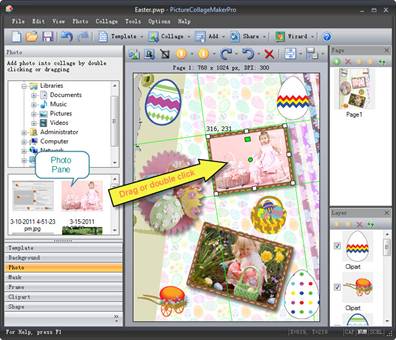 Step 4 – Add Embellishment
Open the Mask pane and view the list of masks, select the mask you like and click to apply. To truly make a photo collage, you need to surround it with a good frame, click the Frame pane to select a frame and double-click it to add it to your collage. To further decoration of your card, click the Clipart pane and select one to add it accordingly, you can resize, drag, and position the clipart to make collage fun.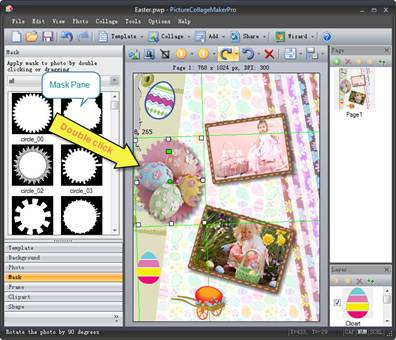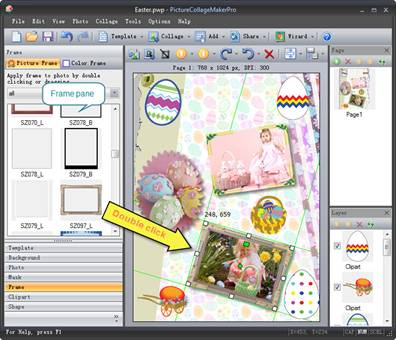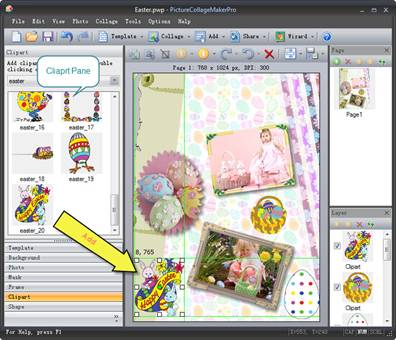 Step 5 – Add Text
To enrich the collage, you may add the text in collage, click Collage menu and then Add Text button in the drop-down menu, then the text edit window popup, the program allows you to manipulate font size, color, and the background of your text. Click the left mouse button and without releasing it move the text to the needed place.
Step 6 – Save and Print
Lastly, move your pointer to the top menu and click on File, click Save As in the dropdown menu to save your digital photo collage or print it out as a card to send to your friends and family members.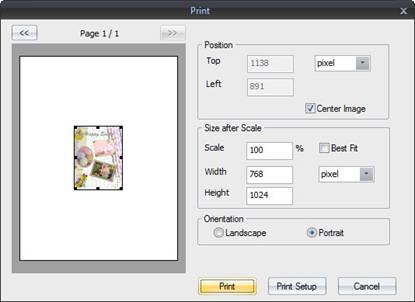 With Picture Collage Maker Pro, making a card can be simply done. The Easter Day is coming, have you prepared this special card for your friends and families. This is the best way to extend your thankfulness to friends, family and loved ones for their warm wishes and send them your heartfelt Easter cards.
Picture Collage Maker is a powerful and easy-to-use photo collage maker for Mac OS X & Windows , which allows you to create photo collages, scrapbooks, greeting cards, posters and calendars to share with family and friends.