Free Download
Awards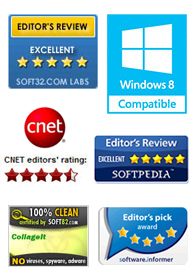 Testimonials
This is a very nice and useful photo collage generator.
- Soft32
Really a great collage software ! Very, very fast and simple.
- Benjamin Glettenberg
Find Us
How to Make 2011 Photo Calendar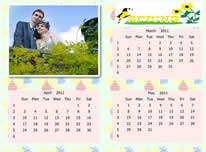 Photo calendars are a thoughtful, inexpensive gift that can be used every day of the year. With the year 2010 passes by, a new year 2011 is around the corner, so it's time to get a new calendar. Of course you can buy a new calendar, but you could also make your own calendar that includes your own digital photos. Maybe you are just looking for information on how to make a calendar online, you've found the right place! Below I have written up a short tutorial for making a photo calendar by using Picture Collage Maker Pro, which includes a daily, monthly, or yearly calendar or a template you can use to design your own printable photo calendar.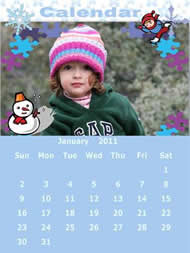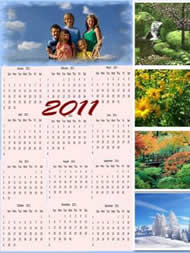 Choose the Template
After launching Picture Collage Maker Pro, choose the template. For each month of each year featured, there are many calendar templates to choose from on the left Template pane of the collage, or you can customize your own photo calendar any way you want. Select a template from the Template category for your collage you are going to create.
Personalize the Photo Calendar
Now you are ready to edit the calendar. To begin with, you will need to click Add on the window menu, and then click Add Calendar on the dropdown menu. In the popup calendar edit window, the program allows you to customize any element of the calendar, including show option, language, font, font color, background. Here you might choose show year, show month, show week header and show week numbers, anyone can be ok. There are some languages for you to select, choose any one you like, and you can also change the font and font color to look at the best effect. Anymore, the background of calendar can be filled with transparent, color and image, go with what feels like.
After adding the calendar in the collage, resize, rotate and drag it to the position as you need.
Add Photos
Once you have added calendar, you will need to click Photo on the left window to add some photos to enrich the collage, choose a photo to match the theme, of course you could create photo calendars in many styles: modern, business or romantic. The photos can also be resized, rotated and cropped.
Add Embellishment
If you want to decorate your photo calendar, the mask, frame and clipart must be your choice, apply the mask and frame to the photo. The clipart can be added in the collage too.
Printing Your Photo Calendar
Once you've finished designing your photo calendar, it's time to print. You can print it as a calendar card to send to your friend or as wall calendars or as desk calendars putting on the desk. That's all, you have done it successfully.
Above is only a calendar of a month, actually you may create a calendar a quarter of a year or a year, the method is the same with the above, just add more calendars in the collage.
Photo calendars make great keepsakes, and are the perfect way to relive your favorite moments all year long! What's more, you could make other cards using this program.
Picture Collage Maker is a powerful and easy-to-use photo collage maker for Mac OS X & Windows , which allows you to create photo collages, scrapbooks, greeting cards, posters and calendars to share with family and friends.