Free Download
Awards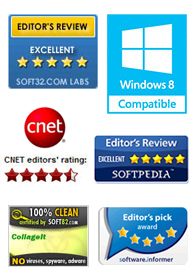 Testimonials
This is a very nice and useful photo collage generator.
- Soft32
Really a great collage software ! Very, very fast and simple.
- Benjamin Glettenberg
Find Us
Import Customize Resource Tips
If the materials provided in Picture Collage Maker Pro can not satisfied your desire, importing customize resources is available, you can finish it by right-clicking on the mouse, select as many resources as you want to use, after finished importing materials, right click the mouse and choose open the customize folder to see if the materials have been imported, of course, you can delete the resouces from the cutomize foler. In the end, refresh your customize list and get started making your collage from your customize resources.
Import Customize Background
In the Option menu, choose Background menu list and Import Customize Background Sub-menu list. You can also import background from your computer.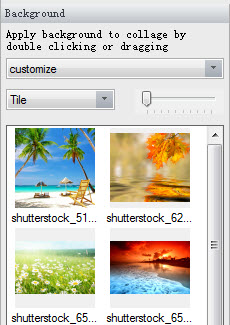 Import Customize Mask
Choose Mask menu list and Import Customize Mask Sub-menu list, you can import masks in your disk on the computer. The point is that only jpg format can be imported and the pictures are required to be grayscale.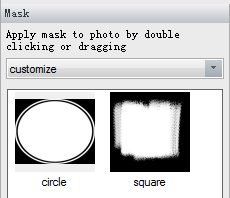 Import Customize Clipart
Choose Clipart menu list and Import Customize Clipart Sub-menu list. You can import clipart from your computer. The format of customize clipart can be bmp, jpg, jpeg, gif, png, etc.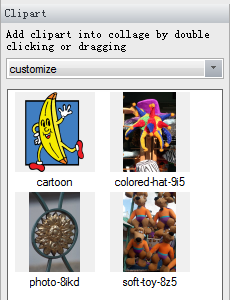 Import Customize Template
In the Options menu, select Template Category and Import Template sub-category. Click the link to see more templates from Picture Collage Maker.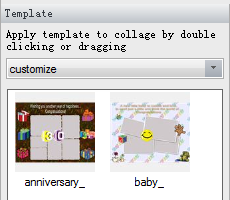 Tips: Save as Template
Any collage being edited in the main window can be saved as a new template.
Picture Collage Maker is a powerful and easy-to-use photo collage maker for Mac OS X & Windows , which allows you to create photo collages, scrapbooks, greeting cards, posters and calendars to share with family and friends.