Free Download
Awards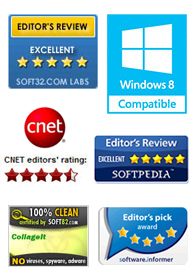 Testimonials
This is a very nice and useful photo collage generator.
- Soft32
Really a great collage software ! Very, very fast and simple.
- Benjamin Glettenberg
Find Us
Crop Photo Tips
The Crop Dialog Box is used to clear unwanted parts of a photo. If you don't want some parts of the photo shown in your card, then The Crop Dialog Box works.
Simple Cropping
Click on the photo dropped into the edit area, eight white square handles and two green icons emerge. The four white handles on the angles are used to resize the photo and the length-width ratio of the photo is automatically generated to fit the frame. The other four handles function as cropper. You can move the photo in its set region by pressing the mouse over the green square.
Detailed Cropping
If more detailed cropping of the photo is required, you can press the icon in the lower toolbar. The photo can be cropped in the Crop Photo Dialog Box. The eight white handles are provided to crop photo from every angle. The length-width ratio of the photo is set when you choose Lock Aspect Ratio.
Click on Fit frame button to fit the size of the photo to the previous frame.
Click on Best Fit to fit the photo automatically.
Reset Crop provides the function to reset the photo.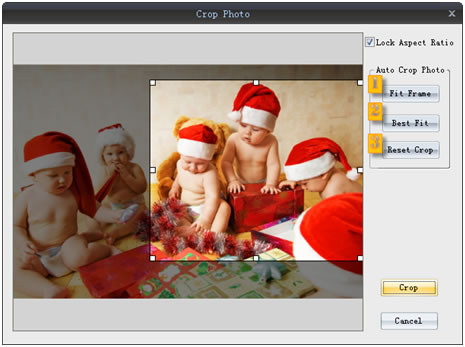 All completed, please click on Crop to finish Cropping.
Picture Collage Maker is a powerful and easy-to-use photo collage maker for Mac OS X & Windows , which allows you to create photo collages, scrapbooks, greeting cards, posters and calendars to share with family and friends.