Free Download
Awards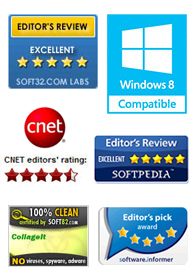 Testimonials
This is a very nice and useful photo collage generator.
- Soft32
Really a great collage software ! Very, very fast and simple.
- Benjamin Glettenberg
Find Us
Baby Scrapbook Ideas of Recording Baby's Growth
With the birth of baby, every mom may want to keep this magical and wonderful experience in mind. As the baby gets older, there are so many things you want to remember about the baby, the first step, write down the first word, etc. Unfortunately memories are the easiest thing to lose. It's so hard to hold on to all memories. It doesn't matter, baby scrapbook ideas inspire you on how to preserve, only present the photos on the page. From the moment they are born to every special moment unforgettable for ages can be recorded. There are so many scrapbook ideas that you can use for baby scrapbook to preserve the magical memory of the birth and growth of baby.

Below are some baby scrapbook samples created by using best digital scrapbooking software Picture Collage Maker Pro and some suggested baby scrapbook ideas, with this program, you can make baby scrapbook with just few mouse clicks.
Baby's Sleeping Scrapbooking
The page is kept simple to ensure that the focus of this scrapbook page is the picture of the baby sleeping. Scrapbook page layout ideas for a baby asleep might begin with a background of sheet fabric. Focus attention on baby sleeping by making that photo highlight, framing it. Don't forget to tell about baby's sleep habits.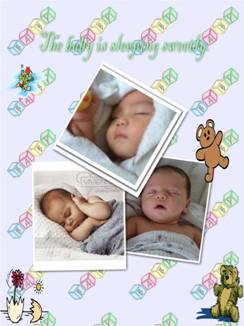 Merry Christmas Baby Scrapbooking
Highlight pictures of your baby's first holiday season with bright red templates. Red is such a strong color and not only does it tie in with Christmas but it also makes a dynamic. You can't help but look at this page because it is so noticeable.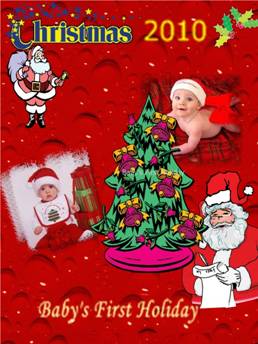 Baby and Dog Scrapbooking
This page may conclude the baby and dog, it presents the good relationship between the baby and dog. You can see the sweet smile on the baby's face, very cute.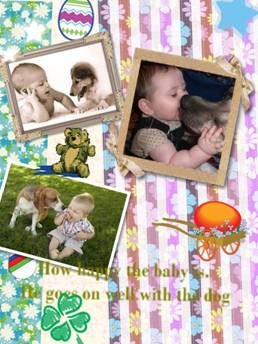 Baby's First Sink Bath Scrapbooking
The whole Baby's first sink bath layout is done in a variety of babyish, very cute. It records the happy moments that baby sink in water with the hands moving in the air.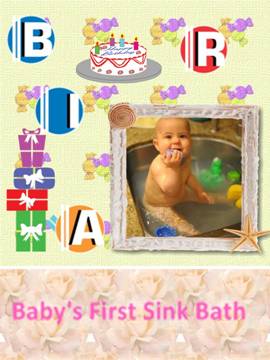 Baby's Vacation Scrapbooking
Here you can place photos of your baby's first vacation. Holidays are big events, so you probably have numbers of photos lying around that would be perfect for this type of scrapbooking page. Remember baby's first vacation with this type of page.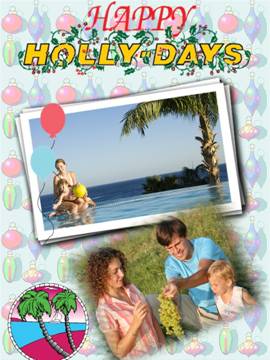 The ideas for baby scrapbooks are various. You do not need to be particularly creative, just make a baby scrapbook with Picture Collage Maker Pro, which includes so many scrapbook ideas and you can apply it quickly. What's more, you could also make a collage of photos for any occasion using this program.
Picture Collage Maker is a powerful and easy-to-use photo collage maker for Mac OS X & Windows , which allows you to create photo collages, scrapbooks, greeting cards, posters and calendars to share with family and friends.