Free Download
Awards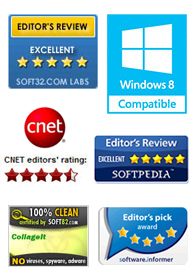 Testimonials
This is a very nice and useful photo collage generator.
- Soft32
Really a great collage software ! Very, very fast and simple.
- Benjamin Glettenberg
Find Us
Picture Collage Maker Pro 3.0.3: Enhancing Creation of Collages for Scrapbooks, Calendars and More
Pearl Mountain Technology has recently released Picture Collage Maker Pro 3.0.3, which is more than an ordinary collage generator with more than 100 professional templates for collages, greeting cards, calendars and photo albums. This is a chance to make the memories tangible and share them with the world by getting them altogether in a unique and personalized way.
Collages, scrapbooks, posters, invitations, calendars, and greeting cards – the list is inexhaustible and lets imagination run wild. But even the beginner user can take advantage of this variety of Picture Collage Maker Pro functions. The process of editing these artistic looking collages goes almost unnoticeable, as it is quick and the work can be made easily and even automatically in case the user tries helpful template and grid collage wizards. Photo craft may be performed in three simple steps. A library of professionally drawn templates and enhanced alignment tools make it possible to meet this scheme: select a photo layout, pick the images, drag and drop them into the project and choose between saving in different formats, printing it out instantly or sharing it by email. Moreover, the project can be resized and set as special and eye-catching wallpaper.
Transforming photos into greeting cards or collages is only one of the possibilities one may enjoy. The others include unfussy editing with adjusting the dimension of the images, cropping masks and cliparts and even changing DPI. The most valuable benefit of Picture Collage Maker Pro is the choice of over 100 templates and a wide variety of layouts, backgrounds, shapes and frames which may satisfy any need – from new-born baby congratulation to personalized office calendar. No matter what collage style the user may choose, decorations are customizable and extensive.

Mastering the program's special features is captivating. Every creation implies a pleasant game especially when the program offers to experiment with drop shadows, to rotate images and text freely and to use comics like speech bubbles. Also, anybody with a digital camera is bound to have thousands of the stored photos which demand sorting out and scrapbooking, so why not have a go and make a gift of a vintage scrapbook with touching commentaries for Granny? Such a photo album may become your heirloom, which is as unique as the most long-term memories.
Pricing and Availability
Compatible with Windows XP, 2000, Vista, 7. Price of the full version on the official web-site is 39,90 USD.
15-day free trial version always has a watermark on output files, if you want to get rid of it, the full version should be purchased. Once you pay, unlimited number of collages can be easily made. 30-day money back satisfaction and free lifetime support are guaranteed.
Company
PearlMountain. was founded in 2006 and is now a renowned software company specializing in the development of multipurpose software for digital scrapbooking, photo collage creation, and calendar and greeting cards making.
###
Links:
Product Website: https://www.picturecollagesoftware.com/
Download link:
https://www.picturecollagesoftware.com/Downloads/PictureCollageMakerPro.exe
Examples of templates: https://www.picturecollagesoftware.com/samples.html
Press contacts:
David Lin
PearlMountain Soft
CEO
[email protected]