Free Download
Awards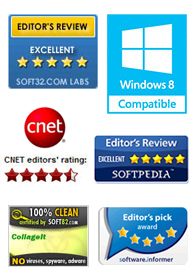 Testimonials
This is a very nice and useful photo collage generator.
- Soft32
Really a great collage software ! Very, very fast and simple.
- Benjamin Glettenberg
Find Us
How to Make a Photo Calendar With Picture Collage Maker
Create your own personalized photo calendar is inspiring by showing your favorite photos on a calendar. Picture Collage Maker Pro is your choice to make unique and affordable calendars. Choose from the various styles and pick the perfect one to make a design month by month. It's fantastic to design calendars every month with your own photos, images and captions. You can impress family and friends as well as make a gift for them.
Click the link to download Picture Collage Maker Pro to start your design.
Step 1 - Create Your Collage From a Preset Template for Your Calendar
On the Collage menu, click Open From Template to create collage from preset template, you can choose any one from it, then click load and you can use it.
Step 2 - Add Your Photos to the Project
In the Photo Pane on the left, find the folder where the photos you want to add are located, and the photos will be shown in thumbnails list below. See the words "Drop Photo Here" in each blank? Yep, just drag each photo in thumbnails list to your collage or double click it
Step 3 - Adjust the Size of the Photo, and then Edit It by Decorating
When added into the calendar, photos may sometimes need editing. You can just click Crop Photo on the Photo menu, and then edit it according to your need.
Some more panels such as background,frame,mask,clipart are also listed on the left, for they're outstandingly useful for your photo decoration. You can add frame, mask or clipart to the target photo.
Step4 - Set Your Calendar
Double click the Calendar icon in the editing view , whereby you can set your calendar freely, for example, the date, month, year, or something related to the setting of its font, color or background color.
When all is done, don't forget click on OK to save your setting.
Step5 - Set Your Collage Project as Your Desktop Wallpaper
On the Collage menu, click Set Wallpaper to set your collage as your desktop wallpaper. Of course, you can make it saved as picture in the format of JPEG, BMP, and GIF etc.
If you like you can print it or email to your best friends.
Results
Picture Collage Maker is a powerful and easy-to-use photo collage maker for Mac OS X & Windows , which allows you to create photo collages, scrapbooks, greeting cards, posters and calendars to share with family and friends.