Free Download
Awards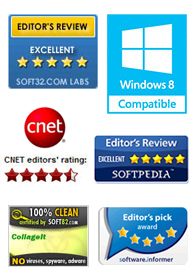 Testimonials
This is a very nice and useful photo collage generator.
- Soft32
Really a great collage software ! Very, very fast and simple.
- Benjamin Glettenberg
Find Us
How to Make a Photo Book With Picture Collage Maker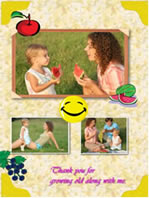 Making a photo book is a good method of sharing photos, you can set up your messy digital photos to record every beautiful moments to share with your friends and your relatives. I convince you that you could still remember the good time before when you turn over the photo book by yourself after many years. It's a long, painful process to use professional graphic software to make photo book, for you'll feel overwhelming when you had to face the complicated functions.
How about using Picture Collage Maker Pro, here you won't learn professional image processing techniques, only need to move the mouse, and then the amazing photo book can be produced.
Download Picture Collage Maker Pro to install it and launch this program.
Step 1 - Add Your Photos to the Project
In the Photo Pane on the left, find the folder where the photos you want to add are located and the photos will be shown in thumbnails list below, then just drag each photo in thumbnails list to your collage or double click it. Btw, you can adjust the photos by resizing and rotating them.
Step 2 - Adding Text & Clipart to Project
On the Collage menu, click Add Text to add text your collage. To get the best effect, you can set the font and color of the words to be added as you wish.
Open Clipart Pane .You can see the list of Cliparts in the left part of Picture Collage Maker window. Double click a clipart to add it to the current project. There is an assortment of images for you to make choices.
PS: In this step, you can also adjust the text and clipart by resizing and rotating with the dragging of the mouse cursor.
Step 3 - Apply Background Patterns to Collage
Open Background Pane and Double click a background to apply it to the current collage.
Step4 - Add New Page
On the very right part, you can see a Page Pane, now please click "add page", a new blank page will be created. Want to edit it? Yes, we can just go ahead to edit the page just by clicking the new page. In this way, we can create pictures on and on as we wish.
Step5 - Save Project as JPEG File or Print
On the File menu, click Save Collage as Picture and specify a folder on your hard disc to save current collage project as a image file. Or you can choose Print Preview on the File menu, and print the photo book you've just made.
Results
Picture Collage Maker is a powerful and easy-to-use photo collage maker for Mac OS X & Windows , which allows you to create photo collages, scrapbooks, greeting cards, posters and calendars to share with family and friends.