Free Download
Awards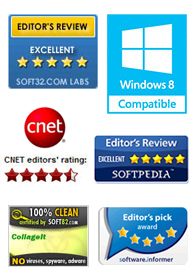 Testimonials
This is a very nice and useful photo collage generator.
- Soft32
Really a great collage software ! Very, very fast and simple.
- Benjamin Glettenberg
Find Us
How to Make a Photo Collage With Grid Collage Wizard

Making a collage is not only a means of preserving the memories of today for the future, but it's also a creative craft. There are thousands of methods online for you to make a picture collage as you want. Using Grid Collage Wizard can be a simple method to keep this meaningful and wonderful moment in memory. It is different with other collage making programs because of the brief method of adding many photos in a single step.
Simply open Picture Collage Maker Pro and follow the steps below.
Step 1 - Add Your Photos
Click Grid Collage Wizard on the Tools menu, the Add Photos dialog will pop up. What's next? Yes, we can add a photo or even photos by clicking Add Photos or Add Folder. In the Photo Preview part, you can see the pictures at will. Now we move on to the next step.
Step 2 - Customize Layout in the Dialog Preferences
In the Grid Collage dialog, you can free customize the layout, including the number of columns and rows of the photos, the space that you want to have around each frame, outside margin around the outside of the collage itself and so on. In addition, shadow and frame are also enabled as you wish. Attention, you can always preview the effect of your collage. After all is done, just go ahead to the next.
Step 3 - Preview and Output
In the Generate Collage dialog, you can get the preview of the ultimate. All the photos you select in the first step now will fill in the page automatically. Here you can make the collage as your wallpaper, save it as picture or email it. Want to print it? OK, click Finish to return to the main program.
Step4 - Print Collage
On the file menu, choose to click Print Preview, then on the Print panel you can see the final print effect, or if necessary, resize or adjust its position or orientation. The last step is to click Print.
Results
Picture Collage Maker is a powerful and easy-to-use photo collage maker for Mac OS X & Windows , which allows you to create photo collages, scrapbooks, greeting cards, posters and calendars to share with family and friends.