Free Download
Awards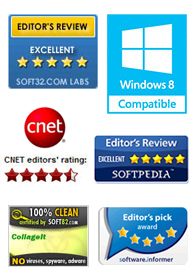 Testimonials
This is a very nice and useful photo collage generator.
- Soft32
Really a great collage software ! Very, very fast and simple.
- Benjamin Glettenberg
Find Us
How to Make Birthday Card With Picture Collage Maker
Birthday card is a traditional method of celebrating birthday. They are always the symbol of love and treasure of memory. Birthdays are never complete until you've given the one a warm hug or say "happy birthday" to him or her. Birthday cards are specially designed to send birthday blessings, they are pretty and easy to make. Take action at once, make a birthday card for the one who is await for his or her birthday.
Download Picture Collage Maker Pro to install it and launch this program.
Step 1 - Create Card from a Preset Template
It is a piece of cake even for green hand of computers. Try to find and open Collage menu, then click Open From Template to create collage from preset template.
Step 2 - Add the Photo
Double click "Drop Photo Here", and add the target photo into the template. You can move your mouse cursor to the selected photo to move it by dragging your mouse cursor.
Step 3 - Apply Background Patterns to Collage
Open Background Pane .You can see the list of background patterns in the left part of Picture Collage Maker window.
In the Background Thumbnails Pane , Double click a background to apply it to the current collage.
Step4 - Apply Masks to Photos
Open Mask Pane .You can see the list of masks in the left part of Picture Collage Maker window. Select a photo in the edit area. In the Mask Thumbnails Pane , Double click a mask to apply it to the current photo.
Step5 - Arrange the Layer and Save as a Picture
One image can overlap others on a collage page; you choose the order in which to layer the images by moving a selected layer to the back or to the front. You can delete layers you don't like and replace them with new images.
On the File menu, click Save Collage As Picture and specify a folder on your hard disc to save current collage project as a image file.
Picture Collage Maker is a powerful and easy-to-use photo collage maker for Mac OS X & Windows , which allows you to create photo collages, scrapbooks, greeting cards, posters and calendars to share with family and friends.