Free Download
Awards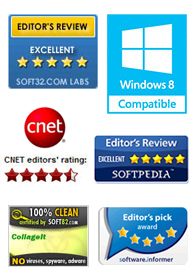 Testimonials
This is a very nice and useful photo collage generator.
- Soft32
Really a great collage software ! Very, very fast and simple.
- Benjamin Glettenberg
Find Us
Thanksgiving Discount – Buy Picture Collage Maker and Enjoy 30% Off
Tomorrow is Thanksgiving Day. How exciting! In order to thanks all customers' support, PearlMountain promote some products with discount to celebrate Thanksgiving. Especially the Picture Collage Maker Pro, the price is 30% off. The original price is $39.9, and the present price is only $26.9. You can save $13. And this Special offer lasts only one day. Don't let this chance miss! Let's join in purchase activity.

With Picture Collage Maker Pro, you can build Thanksgiving Cards quickly and effortlessly. Only a few steps a beautiful Thanksgiving card will come to your sight and you can share it with your friends and families.
The Picture Collage Maker Pro comes with a large collection of templates that let people start immediately to build a card. There are templates of birthdays, anniversaries, graduations, Christmas, Easter, New Years, Thanksgiving, Father's Day, Mother's Day and other holidays and occasions. So you don't need to worry about which template to choose, Thanksgiving template is the choice.
Add photos to the template, the photo can be resized, rotated by moving the mouse. Then you can decorate photos with frames and mask, there are many embellishments for you to choose. Afterwards, add greeting text to the card, you can change the size and the color of the text as long as you like.
If you want to personalize the card, Picture Collage Maker Pro provide the choice by adding Shape to it, choose what shape you like, such as rectangle, ellipse and fill the shape with color, meanwhile you can change the color, the line width and the line style. In a word, the shape added in the card should catch the eye of people and it can also give a kind of imagination to people.
Picture Collage Maker Pro is just one of those wonderful tools that bring so much happiness and memories to people. Using this program helps users to express their feelings sincerely. You can save the card as jpeg file to send to your friends or turns it into desktop wallpaper.
Look, how easy it is. So are you still annoyed about what present sending to your friends and relatives for Thanksgiving Day? Don't worry, let's join in. You can learn more at:
https://www.picturecollagesoftware.com
NOTE TO EDITORS: Please, let us know if you have any questions or would like any additional information on PearlMountain. Contact David Lin at [email protected] for more information. A free registration key is available upon request to all editors considering a review.
Product page: https://www.picturecollagesoftware.com
E-mail: [email protected]