Free Download
Awards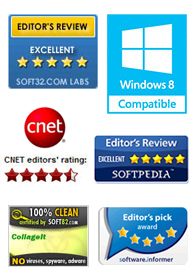 Testimonials
This is a very nice and useful photo collage generator.
- Soft32
Really a great collage software ! Very, very fast and simple.
- Benjamin Glettenberg
Find Us
Photo Collage Software Provides Fun, Saves Money
PearlMountain has released Standard and Pro editions of Picture Collage Maker v. 2.0, a simple-to-use Windows program that turns ordinary photos and pictures into stunning keepsakes to share with family and friends. With just a few clicks, you can create digital collages, scrapbooks, posters, invitations, calendars, and greeting cards. Unlike photography software that takes days to master, Picture Collage Maker lets both seasoned collagers and new hobbyists become productive in minutes.
Version 2.0 introduces the new Pro version, with the ability to make multi-page collages. The Pro version also includes dozens of additional greeting card, calendar, and all-purpose templates, more than 50 new fonts, and nearly 500 additional collage resources such as frames, masks, and clipart.
Other new features in version 2.0 include adding a layer thumb-view bar to make it easier to adjust layers, the ability to add a calender to any photo collage, and a new grid collage wizard for quickly making, say, a 4x4 (or any number) image collage.
Picture Collage Maker comes with a library of professionally-drawn templates that offer you a wide variety of photo layouts and backgrounds for your collage. You have complete control over paper size and orientation.
Select the folder that contains your photographs, and the program will show you a thumbnail of each image. Simply drag and drop pictures onto your background. It's simple to resize each picture, move it to exactly where you want it, and tilt it a little or a lot, for added impact. You can choose from a large selection of special effects to fine-tune each individual picture, from adjusting hue and brightness, to applying artistic effects.
Picture Collage Maker comes with a large collection of beautiful picture frames that you can add to any of your photos. In addition to traditional frames, the program also has masks that you can apply to each individual picture, allowing you to change the shape of each image.
It's easy to add text, in any color or size, anywhere on your collage. You can further personalize your creation by adding clip art, from team mascots and company logos, to holiday images.
You can save your project for future updating, save it as a jpeg file to send to your friends, or turn it into a template that you can use as the basis for future collages. You can even make your collage your Windows wallpaper.
As easy as it is to use Picture Collage Maker, the program makes it even easier. The Picture Collage Maker wizard takes you step-by-step through the process, making it ideal for younger children to use.
In today's troubled economy, many people are forced to choose between buying expensive cards and calendars, or cutting back on their cards, calendars, and other keepsakes and gifts. Picture Collage Maker is a cost-effective alternative that lets you transform your special pictures into precious memories.
Picture Collage Maker v. 2.0 runs under Windows 98/Me/NT4/2000/XP/2003-Server/Vista, costs $29.90(US) for a personal license, and may be purchased securely online from https://www.picturecollagesoftware.com. Prices for the Pro version begin at $39.90(US), and include dozens of additional calendar, card, and multi-purpose templates, and hundreds of additional collage resources, as well as the ability to create multi-page collages. You can download a free 15-day trial copy of either version from https://www.picturecollagesoftware.com. The software comes with a 30-day money-back guarantee. For more information, visit https://www.picturecollagesoftware.com or write to [email protected].
# # #
Editorial Evaluation Copy Available on Request
About PearlMountain:
Since 2006, PearlMountain has been developing and marketing graphics software for home and business users. In addition to Picture Collage Maker, the company also offers Greeting Card Builder, a money-saving Windows program that lets you turn family photos into stunning greeting cards on your computer. In minutes, you can create cards for birthdays, anniversaries, and all the holidays. For more information, visit https://www.pearlmountainsoft.com.