Free Download
Awards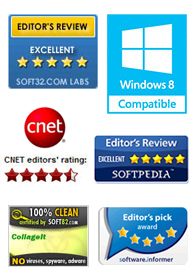 Testimonials
This is a very nice and useful photo collage generator.
- Soft32
Really a great collage software ! Very, very fast and simple.
- Benjamin Glettenberg
Find Us
Easy Photo Collage Software for Complex Projects
PearlMountain has released Picture Collage Maker v. 1.8, a simple-to-use Windows program that turns ordinary photos and pictures into stunning keepsakes to share with family and friends. With just a few clicks, you can create collages, scrapbooks, posters, invitations, calendars, and greeting cards. Unlike photography software that takes days to master, Picture Collage Maker lets both seasoned collagers and new hobb anyists become productive in minutes.

Picture Collage Maker comes with a library of professionally-drawn templates that offer you a wide variety of photo layouts and backgrounds for your collage. You have complete control over paper sized orientation.
Select the folder that contains your photographs, and the program will show you a thumbnail of each image. Simply drag and drop pictures onto your background. It's simple to resize each picture, move it to exactly where you want it, and tilt it a little or a lot, for added impact. You can choose from a large selection of special effects to fine-tune each individual picture, from adjusting hue and brightness, to applying artistic effects.
Picture Collage Maker comes with a large collection of beautiful picture frames that you can add to any of your photos. In addition to traditional frames, the program also has masks that you can apply to each individual picture, allowing you to change the shape of each image.
It's easy to add text, in any color or size, anywhere on your collage. You can further personalize your creation by adding clip art, from team mascots and company logos, to holiday images.
You can save your project for future updating, save it as a jpeg file to send to your friends, or turn it into a template that you can use as the basis for future collages. You can even make your collage your Windows wallpaper.
As easy as it is to use Picture Collage Maker, the program makes it even easier. The Picture Collage Maker wizard takes you step-by-step through the process, making it ideal for younger children to use.
Whether you're a mom who wants to create photo collages to share with the family, a business person who wants to create professional calendars that customers will use every day, or a student who wants a way to present homework that will impress your teachers, Picture Collage Maker lets you transform your special pictures into precious memories.
Picture Collage Maker v. 1.8 runs under Windows 98/Me/NT4/2000/XP/2003/Vista, costs $29.90(US) for a single-user license, and may be purchased securely online from https://www.picturecollagesoftware.com.
You can download a free trial copy from the same web address. For more information, visit https://www.picturecollagesoftware.com/picture-collage-maker.html or write to [email protected].